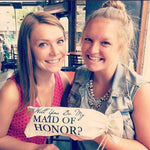 You have thought about this days for years...I mean years! You found the guy, dreamed about the dress, and it is time to pick your maids! How many will you have? Do you have to have the same amount of bridesmaids as you do groomsmen? Do you have to ask every single girl you have discussed being in your wedding party since kindergarten? Decisions decisions, right? Well, it doesn't have to be that hard. After all it is a celebration of love. 

The basics...semi-formal and casual weddings have an average of 3-5 attendants. Formal weddings average about 6 attendants.

The amount of girls and guys do not have to match up. Get creative...2 girls can walk down the aisle with 1 guy...1 on each arm. You can also have 2 guys walk down together. The Maid of Honor can walk down by herself and you can always use those little flower girls and ring bearers as extras.

If you would like a smaller wedding party but wish to include as many friends as possible...give them all a special role. You can have ushers, readers, greeters, and so much more. You can make up fun titles for the day...beauty coordinator...chief of honor...friend of honor, maid of makeup, and so much more!