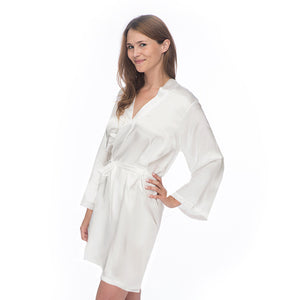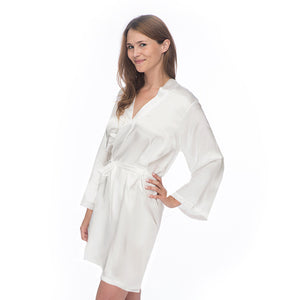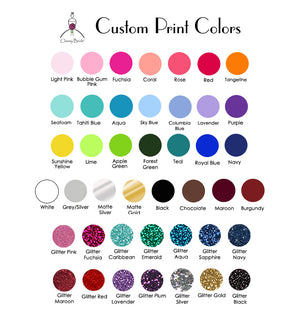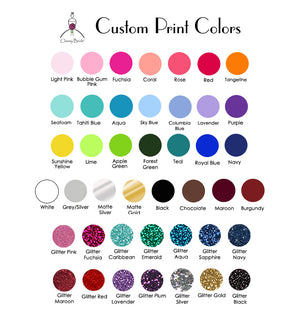 On Sale
Custom Printed Mrs. Robe - KNEE LENGTH
Our gorgeous white customized satin bridal robe comes personalized with your name printed on the back in gold glitter. Classy Bride's signature robe makes a great gift for the bride to be at her bridal shower, not to mention they photograph perfectly! It is a classic look for the bride to be to don on her wedding day while getting ready. Robe comes with an interior tie to tighten or loosen the kimono robe as well as a removable sash belt. All of our robes are machine washable and they wash up beautifully for years to come. 

Please enter your new Mrs. name exactly as you wish it to appear. (Please only capitalize letters you wish to be capitalized.) You can send us a message with any additional details too.

--------------------------------------------------------------------------------

SIZE CHART:

One Size Fits Most: Fits Sizes 2-10

Robe Laying Flat from Belt Loop to Belt Loop: 23.5" (will fit up to 46" hips)

Robe Length 36" 

Satin Charmeuse Blend

3/4 Sleeves with Matching Sash Belt


Custom MRS. NAME

 Printed Across the Back

Interior Tie and Exterior Sash Belt for Amazing Fit
Please note the length of the robe is measured from the back of the neckline to the bottom of the hem.
Your custom robes will be me with love by our in house design team so no returns or exchanges please. Once your one-of-a-kind robe has been personalized it is no longer in new resellable condition. Please call with questions - happy to help!