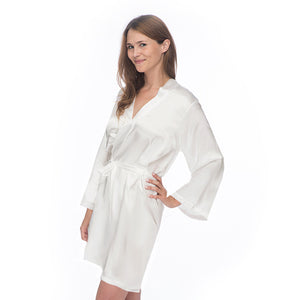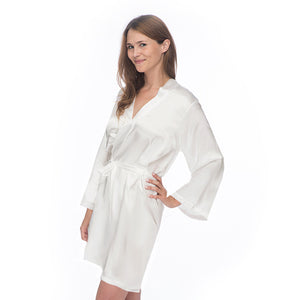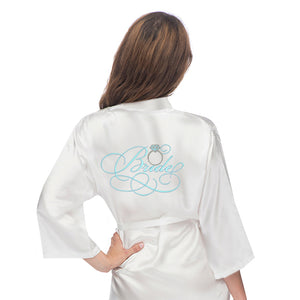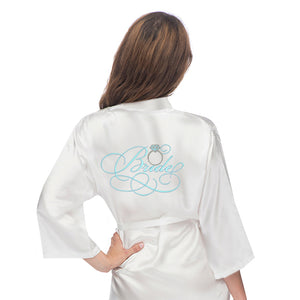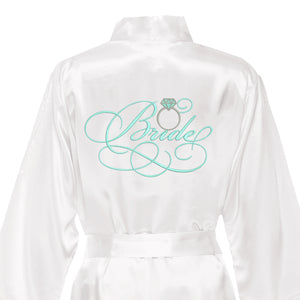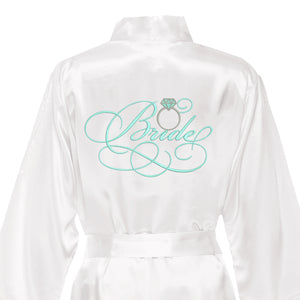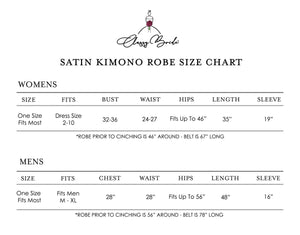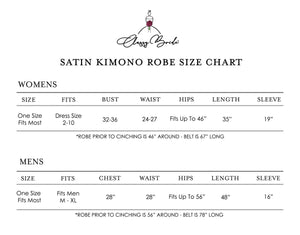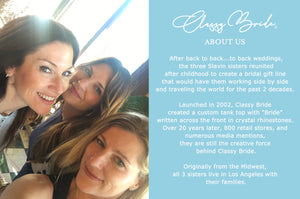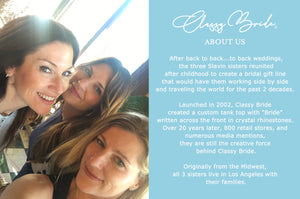 On Sale
Bridal Satin Robe with Wedding Ring - KNEE LENGTH
Our satin bridal robe beautifully embroidered with our Bride design on the back including an exquisite scroll and diamond ring. Classy Bride's signature robe makes a great gift for the bride to be at her bridal shower or morning of her wedding. It is a classic look for the bride to be to don on her wedding day while getting ready or to enjoy during her honeymoon. 

The embroidery detail on the back is gorgeous and makes this robe a true keepsake for years to come for any bride to be. The robes are constructed of a silk-like satin fabric which means they wash up beautifully. There is an inside tie to keep the robe closed and exterior matching belt. Available in white or bridal white, these silky robes are perfect for weddings, gifts, or everyday wear!

--------------------------------------------------------------------------------

SIZE CHART:

One Size Fits Most: Fits Sizes 2-10

Robe Laying Flat from Belt Loop to Belt Loop: 23.5" (will fit up to 46" hips)

Robe Length 36" 

Satin Charmeuse Blend

3/4 Sleeves with Matching Sash Belt

Interior Tie and Exterior Sash Belt for Amazing Fit

Please note the length of the robe is measured from the back of the neckline to the bottom of the hem.


Your custom robes will be me with love by our in house design team so no returns or exchanges please. Once your one-of-a-kind robe has been personalized it is no longer in new resellable condition. Please call with questions - happy to help!