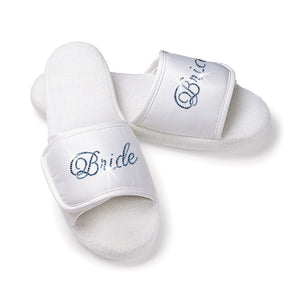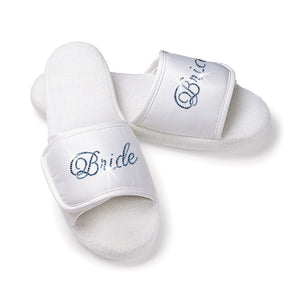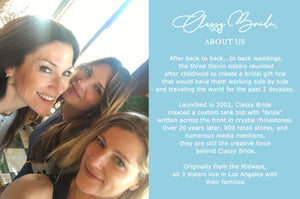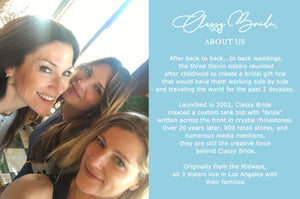 On Sale
Bridal Slippers with Rhinestone Bride
These Bride Slippers are an adorable gift for the bride to be. They are fluffy and plush! Too cute and too comfortable to pass up! Available in white with Bride on each slipper in light aquamarine , pink, or diamond clear crystals! Take these on your honeymoon and pamper your feet after the big day! Spa slippers are ideal for keeping your feet cozy and dry while navigating your home or honeymoon hotel. The special non-skid soles were perfected by years of spa experience. Every time you nestle your feet into the cushy foam lining you'll feel the difference. They're comfortable and long-lasting. Why shouldn't you pamper your feet along with the rest of your body? 
Microfiber with 

Foam sole


Bedazzled with Bride on each slipper in Rhinestone Crystals

Plush and Fluffy with Cushy Foam Lining and Adjustable Velcro Top

Pamper your feet on your wedding day

2 Sizes: One Size (Womens 6-8), L/XL (Womens 9-11)

GREAT Bridal Shower and Bachelorette Party Gift!